Dumais, Ferland & Fuller, CPAs, LLC is a great place to succeed with career opportunities for new and established accounting professionals. We utilize the premier taxation software for the U.S. and employ strict standards of confidentiality and security to protect our clients and their data. Client satisfaction and retention is our hallmark and employee retention is a major component of our success. Our workplace atmosphere is relaxed and friendly. Every accountant has a private office – not a cubicle or a desk. Our partners are available for consultation with any employee nearly every day of the work week. We have a team atmosphere and a team approach to getting the job done. And if you are interested in the path for advancement, check out this message from our most recent partner: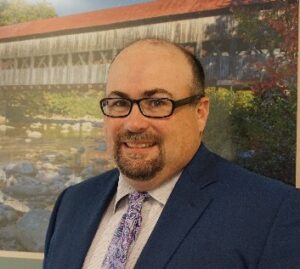 Rob Fuller: My Journey from Staff Member to Partner –
When I joined the firm, I came from private industry and knew that I wanted to be in public accounting where I could interact with individuals and assist them with developing and achieving their financial objectives. Day 1 and 2 were fieldwork days for a financial statement audit for a local school district – things have certainly gotten more exciting since those first two days! Over the last eight years I have gotten to assist a diverse group of clients (individuals, businesses and non-profit organizations) in pursuing their financial objectives, from completing tax returns and financial statement audits to advisory services. As an essential financial service provider, I assisted clients with pandemic related relief programs (which allowed many of those small business clients to stay in business). From the every day to the emergency response, the daily schedule of our Public Accountants is varied and seasonal and the path to Partnership in our firm is a steady road for an interested and ambitious candidate.
As a local firm connected with the community, we feel the best way we can support our community is to ensure the success of its residents and businesses by providing quality financial services to our current and prospective clients. Our partners continue to live locally and support many of the local businesses throughout the area and encourage our workforce to do the same. We align our firm principles greatly with the motto of our hometown, the City of Somersworth, "Proud past, bright future." We take great pride in developing long-time relationships that help us understand where our clients have come from and where they are heading and growing our relationships with them. If you want to grow your career in public accounting, I suggest joining our firm where both professional and personal growth are encouraged! Send me your resume (rfuller@dffcpas.com) and let's start the conversation today….
Send me your resume and let's start the conversation today….